WELCOME to the HOME PAGE of SANDY MACKINTOSH



- by Sandy Mackintosh
"Teacher and Soccer Coach... 4 years at a public high school (New Jersey), teacher of English and Head Soccer Coach; 2 years at a parochial high school in the South Pacific Islands (a Peace Corps assignment...here is the home page, still under construction, for the school at which I taught: (Tupou College, Toloa) teaching English as a second language, and science. While there, I introduced the sport of soccer to the small island kingdom and started an inter-village league comprised of more than twenty teams from over a dozen different villages."

Walking in Faith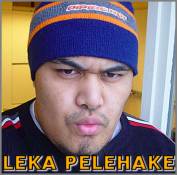 Check out Tavalu's site
"
I have been on a wonderful walk with God since I have joined Ywam and I wouldn't exchange it with anything else. This is something that I have always wanted to share with others who are out there in this world."

The Marriott Family Website
This site is for the benefit of the Marriott family of New Zealand and their relatives, particularly those living overseas. This site will also be of interest to the families of Anderson, Fonua, Guy and Clough, the ancestors of Eddie (Dad), Carolyn (Mum), Renee (Daughter) and Edward (Son) Marriott.
- Personal homepage by Edward Fonua Marriott


HI-5 is an Australian musical group.
- Personal Homepage by Sarah Hafoka