| | |
| --- | --- |
| | Captain Cook's Landing Place |

I'd like to tell you the history of Captain Cook's landing place in the village of Pelehake. The part of the village bordering the ocean is called 'Alaki Fonua. The ancient people of Pelehake first lived here but, over the years, the village has spread even further to the south. The historical spot in 'Alaki Fonua, where Captain Cook landed, is called Malumalu'afuli Langi. Why did the ancient people of Pelehake give it that name? A giant banyan tree used to grow there. It spread all the way to the ocean. When they stood under the tree and looked up, the branches were so thick and spread so far that, the sky wasn't visible! That's where the name Malumalu'afuli Langi came from. When I was little, and heard the story of the tree, I thought it was the one I was looking at. It looked huge to me! "Not so", said the elderly people. "This one started from a shoot of the original, which was many times the size of this one !" The best part of this history is that Captain Cook gave Tonga the name "THE FRIENDLY ISLANDS".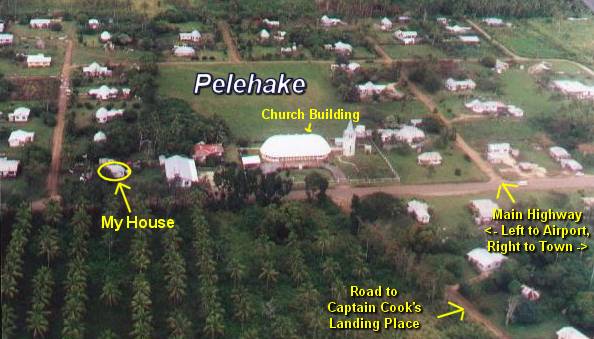 Aerial view of Pelehake. Photo taken by Heneli Vete

This image is a little bit over a mile from the airport. Before you hit the intersection on the dirt road in the middle of the photo coming from the left, hang a right towards the bottom label to get to Captain Cook's Landing Place. If you were to keep going straight instead of taking that right, you would go into town. This picture was sent to me by Maj Kuli Fakalolo, he's currently in the Tongan Defense Force.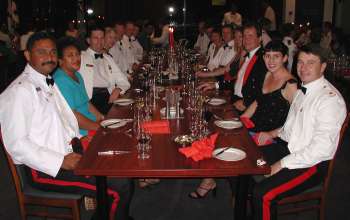 Here is Maj Kuli Fakalolo on the left side of the table, with his wife next to him.
This picture was taken in Australia while he was in training for the Tongan Defense Force. Kuli and I both grew up in Pelehake.
"Hiva 'a Tu'imala"

All pictures and items contained on this page were created and/or gathered by me, with noted exceptions of ABC's and NBC's pictures. ©1999, ©2000 by webmaster of Tonga 2K.