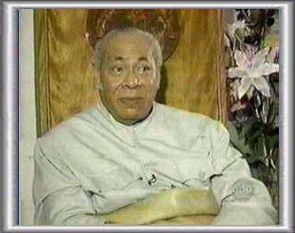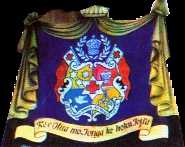 Video captured from the TV show 20/20 on the ABC network

KING TAUFA'AHAU TUPOU IV
Click the link below for a website that contains more information
about the King and the government of Tonga
http://www.pmo.gov.to/
PASSING AWAY OF HIS MAJESTY KING TAUFA'AHAU TUPOU IV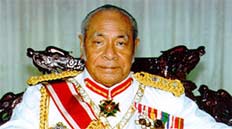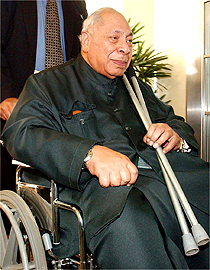 NUKU'ALOFA, Tonga (AP) -- Tonga's King Taufa'ahau Tupou IV, a towering figure in the tiny Pacific Island nation for four decades, died in a New Zealand hospital, the Tongan government announced Monday, ending one of the world's longest reigns by a monarch in modern times. He was 88.
His death came at the end of a long but unspecified illness in a hospital where the king had spent most of the past several months, and plunged the remote country into a mourning period expected to last for months.
Tonga's acting Prime Minister Viliami Tangi said on radio and television broadcasts that the king passed away shortly before midnight New Zealand time (1200 GMT Sunday). The nation's Lord Chamberlain, Hon. Fielakepa, was expected to formally announce the death later Monday. The lord chamberlain is a government minister assigned to serve the monarch.
The end of Tupou IV's reign is likely to fuel a push for more democracy in the near-feudal kingdom, where the royal family has ruled with absolute power since tribal groups on more than 170 Polynesian islands united into a single kingdom in 1845.
Tupou IV benefited from a historical reverence for the monarchy, which has waned in recent years as most people languished in poverty even as the royal family enriched themselves from the nation's meager resources, fell prey to scam artists and oversaw bad economic decisions.
Tupou IV ascended the throne in 1967 after his mother, Queen Salote, died in 1965 and a long mourning period. Another long grieving period is expected this time, when villagers traditionally wear black and grass-weave mats wrapped around their waists.
Before his death, Tupou IV's 41-year reign made him one of the world's longest-serving sovereigns, after Thailand's King Bhumibol Adulyadej, Britain's Queen Elizabeth II and Samoa's King Malietoa Tanumafili II.
At age 14, the future king was one of Tonga's top athletes; he could pole vault more than three meters (10 feet), played tennis, cricket, rugby and also rowed competitively in a racing skiff.
But like many of his countrymen he became obese, and remained so for most of his adult life.
In the 1990s, Tupou IV led his 108,000 people on a diet and exercise regime aimed at cutting the levels of fat in a nation where coconut flesh and mutton flaps are dietary staples.
From a weight listed in the Guinness Book of Records as the heaviest for any monarch, 209.5 kilograms (462 pounds), the king shed around 70 kilograms (154 pounds) to top the scales at about 130 kilograms (286 pounds).
In his later years, the king divided his time between Tonga and New Zealand. In his last days, the government didn't release details of his malaise but informed Tongans he was gravely ill and asked them to pray and otherwise prepare "if the sun should fall."
Tupou IV was held in enormous esteem and affection by most Tongans, though the reverence waned toward the end of his rule.
Under the 150-year-old Tongan Constitution the king appoints the government and all but nine of the nation's 32 lawmakers. The royal family controls most state assets.
In recent years he became increasingly autocratic, and a pro-democracy movement strengthened. Thousands rallied last year calling for constitutional reform to curb the royals' power.
Reportedly worth tens of millions of dollars, part of the king's fortune came from the many monopoly businesses that his family runs across the Tongan economy. Meanwhile, a quarter of his subjects lived in poverty, according to the Asian Development Bank.
Businesses and scams the late king and his children were involved with in recent years included taking ownership of the privatized monopoly Tongan power and telecommunications companies, satellite communications systems and ".to" Internet domain.
The king authorized taxpayer money to be used to start Royal Tongan Airlines, which failed, then gave the only license for a replacement airline to a prince, creating a lucrative monopoly. He was also implicated in Tonga's giving a self-styled court jester and con man more than US$60 million to invest in U.S. death "futures" -- only to lose it all.
The first Tongan to graduate from university, he won Bachelor of Arts and Bachelor of Laws degrees from the University of Sydney, Australia.
In 1947 he married Halaevalu Mata'aho, the daughter of a high chief, in an unprecedented double wedding with his younger brother, Prince Tu'ipelehake, who married Melenaite Vaikune, niece of the Speaker of Tonga's Parliament.
The king's nephew, Prince Tu'ipelehake, and his wife, Princess Kaimana Fielakepa, were killed in July in a car crash in California.
He was crowned Tupou IV on his birthday, July 4, 1967, in the palace's Royal Chapel in the capital Nuku'alofa in an elaborate ceremony wearing British-style regalia. The Duke and Duchess of Kent represented Britain's Queen Elizabeth II.
Tupou IV took the throne intent on the rapid and radical modernization of the kingdom, refusing to accept that Tonga's isolation and acute lack of resources meant it must remain a coconut- and banana-dependent backwater.
He launched plans for expanding technical education, improving land use and establishing new industries.
As the years went by, his schemes became bolder and more varied, but increasingly impractical. Most failed.
There are 26 heirs to the Tongan throne directly descended from Salote. Crown Prince Tupouto'a, 57, is expected to be named the new king.
Funeral arrangements were not immediately announced.
All pictures and items contained on this page were created and/or gathered by me, with noted exceptions of ABC's and NBC's pictures. ©1999, ©2000 by webmaster of Tonga 2K.